Saturday Night – September 14th  –Headliner!!!
Family Fun Field
Since their debut on "Star Search" in the early 1980's, Sawyer Brown has gone on to release 23 studio albums with more than 50 chart singles. In addition to the band's success on country radio, the group has taken home CMA, ACM, CMT and MCN awards.
However, Sawyer Brown is most known for their wildly entertaining live performances having played more than 4500 shows across the world.
Sawyer Brown is a five-man band including singer Mark Miller, keyboardist Gregg "Hobie" Hubbard, lead guitarist Shayne Hill, bassist Jim Scholten, and drummer Joe Smyth.
Opening Acts:

Milltown Roadshow is a five piece band based in and around Bridgton, Maine, featuring a unique blend of "Americana" music drawn from a variety of genres as well as a selection of well crafted original songs. The band's diverse repertoire allows it to adapt its performances to a broad audience.
With unsurpassed vocal harmonies and strong instrumentation this sometimes thought provoking, sometimes emotional and often energetic group of seasoned professionals are sure to deliver a memorable and positive entertainment experience.
Founded in 2011, Back Woods Road is a highly energized acoustic band known for its tight harmonies, hard driving lead solos, and crowd-pleasing varied choice of music and arrangements. There's never an ordinary song for this band. They take it up a notch and one further. Members are Rich Bernier (dobro, guitar, and vocals); Jane Bernier (guitar, mandolin and vocals), Mike Conant, (fiddle and vocals), Jason Wescott, (guitar), Hunter Webber (banjo) and Shawna Bell (bass).
With close-knit harmonies, sizzling guitar/dobro licks and melodic bass lines, Back Woods Road is establishing itself as a must-see acoustic band.
|| Website | Facebook | Instagram ||
 — Stage —
Wednesday: September 11th
Thursday: September  12th:
Friday, September 13th:
6:30-7:30pm: Clockwork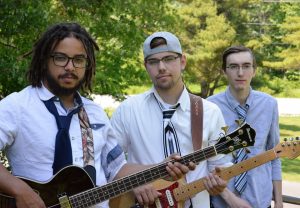 Saturday, September 14th:
*The Ball Brothers Band has been jamming Southern-style, foot-stompin' rock and roll  for more than 30 years. With all the mileage these boys have put in, it's amazing they're still alive.
*Based in and around Bethel, Maine, the Ball Brothers Band began playing together back in the early 80s. They drifted apart as a band for many years. They have remained 'brothers' through it all and still enjoy hanging out together. So after many years of lying-low, the Ball Brothers Band is out to have a little fun again. With standing-room only crowds at many of their recent shows, there is definitely something cool going on. Come join the fun, you'll be happy you came to see this talented group of guys.
*The Ball Brothers Band is comprised of vocalist Brad Hooper; guitarist Kenny Howard; Scott 'just bought another guitar' Kennagh; bass player Clay Abbott; and drummer Ronny Mills.
Stage Sound & Lighting provided by NRC Audio