All entertainment for 2023 will be held on the
NRC Audio Stage
***Saturday, September 16th***
5-6:45PM — Grand Prairie
https://www.facebook.com/GrandPrairieBand/

About The Band
Together for 30 years Grand Prairie are well known on the London Function and pub scene. In over 20 trips to the USA, they have opened for Aerosmith, Diana Ross, Willie Nelson, Johnny Fogarty (Creedence Clearwater Revival) Alabama, Clint Black and in 2015, Trace Atkins.
Grand Prairie won the UK Country Radio "Group of The Year" award in 2015. Two original tracks from their album "This Ain't Reno" reached No.1 in the radio stations charts, "This Is What I Get for Loving You" with Jenny on lead vocal and "Get Me on The Plane" with Rob on lead vocal.
Jenny Ormonde — Vocals, harmonica, flute and accordian
Rob Wilson — Vocals and bass
Brian Miller — Guitar
Peter Terry — Keyboards
Howard Tibble — Drums
⋅
 
Motor Booty Affair has been lighting up stages across America with their 70's extravaganza for several years, continually improving on the show that has been dubbed "The Ultimate Disco Party Band". The music is infectious – the most danceable songs of all time. The band is tighter than tight, delivering dance floor classics with confidence, groove, style and attitude. The show is spectacular – from the afros, bell-bottoms,
platform shoes, polyester and dance moves, to the highest quality sound and light show this side of 1975.
Motor Booty Affair consists of 4 funkateers straight from the planet Funktar; Superfly, Spanish Fly, Vinnie Boom-Boom Funktonio and Cyclone Link Skywalker Jr. It is their mission to get the crowd groovin' as they deliver hits from Earth Wind & Fire, The Bee-Gees, KC and the Sunshine Band, Chic, The Commodores, Barry White, Abba and more. The songs are authentically reproduced by these top notch musicians with unsurpassed quality and attention to detail.
MBA's show is energetic and peppered with 70's lingo jive talkin' and stage antics to make for an event you will never forget. Make sure you bring your boogie shoes because no matter how big the dance floor is – it's always packed from the first song to the last!
.
***Wednesday, September 13th***
5-9pm: Open Jam w/Craig Rivas, Kerry O'Leary & Bill Proctor
Open Mic/Jam format, bring your instrument and voice and join in on the fun. Perform solo or these talented musicians will back you up. Look at those faces, it's sure to be a fun night!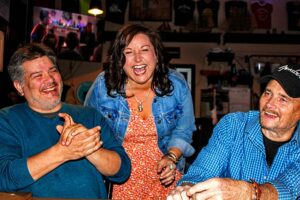 ***Thursday, September 14th***
5-6:45pm:  Mike Preston & Kim Curry
.
7-9pm: 12 OC
12/OC was born in the family kitchen in Portland, ME when the brothers were under 10 years old.  Music was always a part of their household and playing guitar was a daily way of life for each of them.  Once the youngest was discovered as the lead singer at the age of 12, the band found its groove and open mic nights became the foundation of their beginning.  As their popularity has grown so has their versatility; their mix of music has helped increase their popularity across New England, making them one of the fastest growing bands around. Adding the #1 most requested song on 101.9 WPOR for 16 straight weeks to their credit, 12/OC isn't slowing down anytime soon.
.
***Friday, September 15th***
5-6:45pm: CBJ Entertainment:
Craig Rivas, Bill Proctor & Josh Hatfield
With over 50 years combined music and entertaining experience, CBJ Entertainment will start our Friday night music line up. They offer a variety of music genres, including Pop, Rock, Oldies and Country.
•
7-9pm: Yellow Led Vedder / In His Honor
       The Pearl Jam / Foo Fighters Tribute Show
  
.
Stage Sound & Lighting provided by NRC Audio
https://www.facebook.com/NRCAUDIO1/photos/a.463076203870747/463076190537415/